22/09/13 22:33
November 2013 will appear a new
Handbook of
Dutch Variation Linguistics
in the prestigious series
Handbücher zur Sprach- und Kommunicationswissenschaft of De Gruyter Mouton (Berlin)
XXII & 938 pp.

It contains state-of-the-art articles on nearly all aspects of linguistic variation in Dutch non-standard usage, including variants/languages outside of Europe and the two sign language variants; from Dutch, Flemish, South-African linguists who are active in the field.

Subseries:
Language and Space. An International Handbook of Linguistic Variation
ed. Jürgen Erich Schmidt (HSK 30.3)


Language and Space

An International Handbook o
f

Linguistic Variation

Volume 3: Dutch Edited by
Frans Hinskens Johan Taeldeman

De Gruyter Mouton


I
SBN 978-3-11-018005-3
e-ISBN 978-3-11-026133-2
ISSN 1861-5090

The Deutsche Nationalbibliothek lists this publication in the Deutsche Nationalbibliografie; detailed bibliographic data are available in the Internet at http://dnb.dnb.de.
2013 Walter de Gruyter GmbH, Berlin/Boston
www.degruyter.com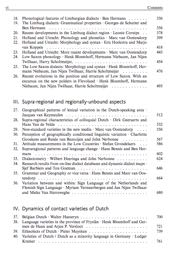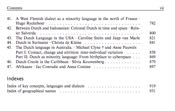 Publisher' s description:

This handbook aims at a state-of-the-art overview of earlier and recent research into older, newer and emerging non-standard varieties of Dutch. The discussion concerns theoretical embedding, potential interdisciplinary connections and the methodology of the studies at issue. It presents general concepts and approaches in the relatively broad domain of Dutch variation linguistics and the main actual developments in different varieties of Dutch.
16/09/13 22:47
July 2008, totally unsuspected, I got an aortic dissection type A (from the bicusp (abnormal) aortic valve to the bifurcation of the aorta). The survival rate is rather low, but I was very lucky in reaching the hospital in time. I' m happy to live now with an artificial valve.
After two months in the hospital (Medical Centre Free University Amsterdam) they asked me at the intake for rehabilitation what my objectives were. I said bluntly that I wanted to do hikes in the higher mountains again. The reaction was: "could be possible", an answer I did not expect.
I trained hard, but during the first years I had some circulatory problems in my legs, but there was always progression, albeit slowly.


This year, 5 years after the incident, I felt strong enough to try and realize the original objective. Off my wife and I went on holidays to Chamonix in order to walk in the Mont Blanc region. And walking we did. From single day tours, to hikes of four days from hut to hut; between 1000 and 3000 m. The weather was beautiful, not too hot. Walking was somewhat slower than in the past, but hey, we are not so young anymore; I guess that an hours walk takes us now an extra quarter of an hour. Because one hut was full we even had one day of 11 hours of walking, 500 m up, 1200 m down.
For the two of us these were terrific days.

Vallorcine-Col de Balme - Croix de Fer - l'Arolette-Tête de Balme - under Aguillette de Posettes - Col des Montets

Brévent - Col du Brévent-Refuge Moëde d'Anterne; higher route to Col de Salenton - Refuge Pierre à Bérard (complet) - Le Buet; Lac Blanc - La Flégère; La Floria - Chamonix.

Courmayeur - Rifugio La Maison Vieille; by L'arp Vieille-Rifugio Elena Soldini; Peuterey - Courmayeur.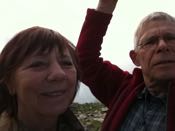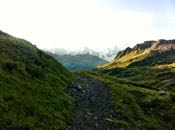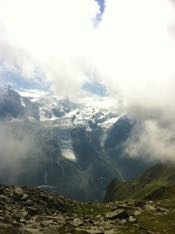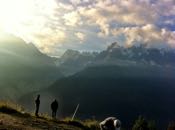 16/09/13 22:08
The other De Saussure
The linguist De Saussure is outside linguistics nonfamous. His 18th century family member is in Chamonix, as elsewhere much more famous than the linguist. Horace Bénédict de Saussure was the leader of the 3rd party to reach Mont Blanc's summit and did several experiments on the top (4807). He opened an itinerary that remained a classical one for years, the "voie Saussure". His name lives on in the Aiguille de Saussure" between Mont Blanc and Mont Blanc du Tacul. He was a natural scientist and was already somewhat guilty of "sloppy science"; from the voluminous volumes with the report on his climbing and descent of the Mont Blanc "Voyages dans les Alpes" he discarded the original colored etchings showing him with embonpoint in a grand bourgeois red coat, going up holding a the rod, held horizontally by two guides. And going down on his buttocks, withheld by a rope from the same guides. The published versions show him very svelte, and going down on his feet. 18th century data massage.